But in the 80s I went back to the piano, and then to keyboards, and finally began to do justice to the songs of Carole King, Elton John and Janis Ian.

I later toyed with my favourite instrument, the tenor sax, for several months, but I was out of shape and it gave me severe backache, so I stopped. One day I'll get fit and take it up again, with proper lessons!

I saw out the millenium in style at Knebworth, in a real Big Band!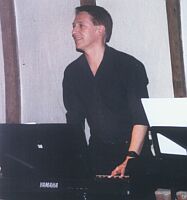 On keyboards with the
LITS Band, Knebworth 1999