Marching On Indiana
Janismania 2004

"We're marching on Indiana
A gathering of the clans …"
Wednesday 9 June 2004, am …
I had taken no chances.
I had carefully hedged my bets, in choosing the timings of the taxi and the overground and underground trains that would deliver me to London's Heathrow Airport. Nothing was going to prevent me from catching that plane to America and Janismania – especially since I held a very-special-price, no-changes ticket!
Hope for the best, anticipate the worst.
But it all worked perfectly. I found myself at the airport a full four hours before departure time. I even had to wait another hour until check-in began. That's the sort of wait I don't complain about! So I was one of the first to check-in – to find I had already been allocated an aisle seat in the very front row of Economy (Coach) class … the best seat in Coach, in fact, with lots of legroom.
Very satisfied already!
Of course, I now needed to start building up my alcohol levels, in preparation for the upcoming sixty hours of Catholic-enforced abstinence, so I spent a good while in the nearest airport bar, and then moved on to a duty-free store: a bottle of fine single malt, definitely not for personal consumption, had been on the "JM essentials" list from the outset …
They called my early evening flight right on time. I was already hovering by the gate, to be close to the front of the queue – it always pays to board early, so that there's a half-chance of stowing your carry-on bag in that limited overhead space!
The gate steward scribbled something on my boarding pass. "We've moved you forward by one row, sir," he said discreetly. I knew at once what that meant: "Business Class". Rejoice!
I boarded and relaxed into one of those lovely wide seats (only seven across the cabin, rather than ten). What a treat! But only ten minutes later, another steward came up to me. "Ah, sir, you're sitting in the wrong seat."
Hope for the best, anticipate the worst.
And he executed a further delicate scribbling on my boarding pass, then asked me to follow him … ever forward! And I landed up in the upper business class section, where the seat reclines right down to the horizontal and, combined with the footrest, turns into a bed!
I'd like to think all of this was due to my repeatedly irresistible charisma and charm. It was actually due to the fact that my nephew is an employee of that airline, and behind the scenes he had fixed all of this for me in advance!
Before they closed the doors, another passenger was similarly escorted forward to the seat next to mine, and we nodded our formal hellos. She then proceeded to call her husband on her mobile phone, telling him of HER good fortune in getting upgraded. It turned out that she too had a relative working with the airline!
After the appropriate dose of British caution and "politesse" (meaning we completely ignored each other for at least 30 minutes), she and I got talking, She introduced herself as Tessa, and immediately asked me why I was travelling to the USA. So I summarised Janismania in a few words, and her eyes lit up! I told her I had spotted that – was she perhaps also interested in music? And then she told me she was a professional opera singer!
More on that later, we agreed … meantime, she wanted to know all about Janis and Janismania.
Tessa was, of course, a classic case of the widespread syndrome technically known as "Janiswho?itis". That is to say, as soon as I mentioned "At Seventeen" her response was "Oh, yes, of course …" - but that was really all she knew. So first off, she had to suffer my standard "Janis Ian 1965-2004 update briefing" … but she was truly fascinated and impressed with it all. I showed her all my CD liners (ready for signing by Janis at the weekend), and she went away with a firm plan to visit Janis' website and to acquire "Between The Lines", "WWAN", and "Billie's Bones".
The conversation moved on to my own admiration for Janis' music … and the database and "book" that I had recently completed, just in time for Janismania. And Tessa wanted to see it. So she was the first person outside my family to take a look at "A Few Old Friends". She was very impressed - and that was a great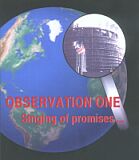 boost to my confidence in my secret plans for it at JM! She asked if I had written anything else. So I told her about the sci-fi novel I wrote last year, founded on all the songs from "Between The Lines", and I showed her my "unpublished" copy. She was especially interested in the Italian chapters (the "rabbit-warrens of back-street Venice"), and she enjoyed reading the brief episode in Florence …
Finally, I got to ask about HER world of music. She told me she had trained in choral singing and linguistics (MORE common ground!) and had toured as an opera singer for many years. She was now spending most of her time teaching, rather than touring – but she was on her way to New York City, solely to sing one aria at a wedding! I asked her full name, and she told me: "Tessa Spong". "Oh," I joked, "like 'sponge' without the 'e'." "Well," she said, "I prefer to say it's a 'song' with a 'p'!"
I think I recognise that 'singer's sense of humour', don't you?

She then told me a lot about her touring history, and some of her memorable performances, and her present teaching programme. Most impressive. And as soon as I got home this week, I went to Google for 'Tessa Spong' and I was delighted with the results! Try it yourselves! What an honour it was to spend a few hours in Tessa's company. Fit preparation for the weekend to come ….
We landed well ahead of schedule at New York JFK. Immigration and customs were a breeze (far, far smoother than I had feared in this new world which is so different from when I last visited the USA), and I was of course near the very front of the queue!! I then said goodbye to my new friend Tessa and grabbed a yellow cab. I was in my "cheap" midtown Manhattan hotel (just south-east of Central Park, ideally positioned for a night on the town!) by 9pm, but it was already 2am on my body clock and all I wanted to do was sleep. That's exactly why I'd booked a very low priced room! So I unpacked the minimum necessary, cleaned my teeth, and hit the sack …

---
"We're marching on Indiana
Exuberant Rudie fans …"
Thursday 10 June 2004 …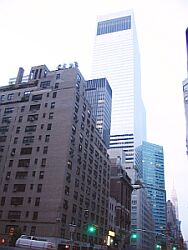 When you get to sleep by 10pm, and you're on a mission, it's easy to waken with the dawn. At four o'clock I was amazed to find myself completely refreshed and alert. With my flight from La Guardia not due to depart till 11am, I had time for a bit of unplanned sightseeing. By 5am I was strolling down a stunningly quiet Lexington Avenue, taking photos of the early morning skyline, with the proud and shiny Chrysler Building as the main landmark, about fifteen blocks to the south.
After a while, Mickey D provided me with an excellent breakfast for about $4. Then I hit 42nd Street (without any Psycho Blues) twelve hours ahead of the crowds, and wandered along to Grand Central Station, for a great photo of its imposing façade and five yellow cabs lined up perfectly in front.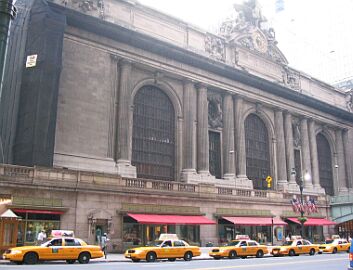 It was time to call home and report "all well" (NOT something I could have done the previous evening without destroying a certain someone's beauty sleep and tilting the delicate balance that must always be sustained during a solo trip abroad!). Remarkably, I found that some of the street phones wanted just four quarters for a 3-minute international call. Even better, when I dialled out, a voice asked me to insert just 25c for 1 minute … and that was more than enough for the short answerphone message I needed to leave. Thank you, Verizon, for the cheapest international call in history!

Back up Madison Avenue to my hotel (hmm, a bit of an exaggeration, that – there were just three significant items in my room: a very small bed, a simple sink, and a TV. In my book, that meant there were actually only two useful items.) But it had served its low-cost purpose, and I needed it no more: I was determined to hit the road to the airport well before the rush hour. Of course, there was a cab waiting right outside, and as we approached the Queen's Midtown Tunnel I knew I'd made the right decision ... it was barely 715am, but the traffic was already getting heavy, even leaving town.

I was safely at La Guardia before 8am, with three hours to spare. I knew there were a couple of earlier flights to Indianapolis with the US airline I had chosen, but once again I had bought a low-price "no-changes" ticket on the net, so I was expecting to have a long and relaxed second breakfast at the airport and a chance to get properly stuck in to the novel I had just begun ("The Da Vinci Code" by Dan Brown – I know some of you have read it already … isn't it great!).

But at check-in I tried my luck anyway: "Can you possibly find room for me on an earlier flight?" "No problem," they said. "Either the one leaving in 25 minutes (but there's no time to check your suitcase), or the 930am flight. But you'll need to pay an extra $25 transfer fee." Sold! I would get a further 90 minutes in Indy for that money – and, even better, as I approached the gate for our on-time departure, I saw that my original 11am flight was already showing 'delayed' by over an hour. Great decision!

| | |
| --- | --- |
| | |
The flight to Indianapolis, in a beautiful Embraer 145 Regional Jet, was one of the finest I have ever had. Excellent cabin service, great shots of Manhattan as we climbed away, and glorious photos of beautiful blue skies above rich and fluffy white clouds as we headed west. My only regret was that, in these post 9/11 days, I was not able to sweet-talk the cabin crew and worm my way into the cockpit, as I often used to do in my early flying days in the 1990s (I've been on the flight deck of a 747, and an Airbus, and best of all in the "jump seat" of a 737 all the way in to Barcelona Airport). And boy, would I love a chance to take the controls of that pretty little Embraer 145 with its elegant nose and its leather seats and its fantastic takeoff acceleration!
Off I taxied to my pre-booked hotel ... a real hotel this time, with the standard two large beds and everything else … for a lot less than I paid in New York City! At last a chance to unpack (I would be here for nearly 24 hours!). And now I could call home again, for a proper chat, this time via the hotel switchboard – costing a LOT more than 25c!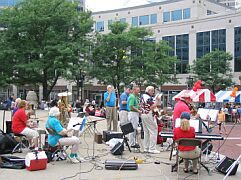 It was time to explore Indianapolis for a few hours. I strolled down to the heart of the city and took a gentle look around. A "Strawberry Fair" was in full swing in Monument Circle, with at least two trad-jazz bands playing – one of them made up solely of VERY senior citizens! Then I focused on imperatives … first a great pizza with wine for lunch, then half an hour in an Internet café to check for any last-minute issues with Janismania, followed by a request for directions from the local traffic cop to the nearest downtown bars.
In fact, that led me straight to the Hard Rock Café, and there I stayed for three hours, re-priming the pump by soaking up some great sounds and videos as well as a super new brand of ice cold beer which they were trialling! I later chatted at length in French to the manager, a fascinating guy who had been running the place for some time, but was just about to return to France and take charge of the only HRC in the whole of Paris! And then I asked the barman, as I always do on such trips, where I could find some good live music later that evening. "That's easy," he said. "There's only one contender, with at least one live blues band every night – the 'Slippery Noodle', the Oldest Pub In Indiana."
So after a stroll back to the hotel for a short nap, a change of clothes, and a bit of virginal "tornado watching" on the Weather channel (which showed real warnings, actual spottings and a touchdown only a few miles to the south-west), then the Slippery Noodle it was. What a place! A $5 cover charge, really cheap beer, and a fine funky rhythm and blues band already playing: The Michael Gough Group from Kentucky (with a superb stand-in drummer from Nashville). Two great lead guitarists, an excellent bassist, and a young woman (Andrea) with a glorious voice and a dramatic and unique harmonica style. A fantastic show, plus 3 bottles of beer, all for about $12!
And the threatened tornadoes never came. As midnight approached, I walked damply back to my hotel in the ever-more-humid atmosphere, very tired after another "extra-long day", but also very contented with the second stage of my Adventures in Janisland, and brimming with anticipation for the upcoming day's most special agenda …

---
"Rudie Music, echoing round the halls
Rudie Music, peppering paper walls …"
Friday 11 June 2004, am/pm …
I was, of course, wide-awake long before my wristwatch alarm sang out at seven o'clock. Keen to get my act together, ready for the final home run into Janismania, I quickly checked the TV. Rejoice! The tornado warnings had gone away, and nothing less than an earthquake on the few short miles between Downtown Indy and Beech Grove could possibly stop me now!
Re-packing, breakfast, check-out and even a short stroll in the relative cool of an Indiana summer morning were all accomplished by 9am. Should I leave now, or wait a little while? I checked Beth's shuttle schedule. Craig and Arron should have been picked up already from their very early morning arrival at the airport. Myra and Karen would be next in at around noon. So maybe if I got there at ten-thirty I would not be TOO early, but could still stretch the magic thread out as much as possible …
I booked my cab, then sat in my hotel room reading more of the brilliant 'Da Vinci Code', but finding it very hard to concentrate!
The taxi was on-time, and off we went. Ten minutes later, as we approached Beech Grove, I saw some of the tornado hits that Beth had mentioned in her message board posts … several large houses had been severely damaged by falling trees, and I'm sure there was much worse that I didn't spot.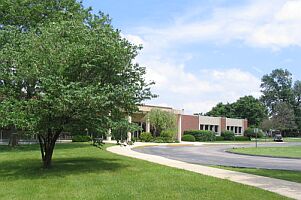 We turned onto Sherman Drive. The excitement was mounting now. We turned into Southern Ave. Then the cab driver took an early wrong turn into a building adjacent to the Benedict Inn, but we consulted the directions again and re-grouped. At last we found the circle drive with the flagpole. We pulled up outside and I paid him well for taking me that final giant step. Then I towed my heavy wheeled suitcase to the front entrance, and noticed my reflection in the large glass doors. Did I then pull them open, or did I, like Alice, just pass painlessly through that looking-glass into a Janiswonderland …?
*******************
Beth is greeting me with a huge, warm smile that is bigger than she is. Her happy helpers are busy decorating long posters on the lobby floor. There are Janis Ian songs playing on a portable CD player. Beth introduces Verlann, who is also working very hard, then leads me off into the main hall, where I encounter Craig's wide grin for the first time! Arron is sleeping the journey off in a side room. I hover in the lobby as Beth introduces Karen of the Quilt, and then briefly attends to other priorities ... and suddenly, Murray and Heather are with us too. It's great to meet the famous JI-crossword puzzle solver and his charming smiling lady!
Suddenly, Anna bursts on to the scene. I recognise her immediately from her recent photo in the Gallery. "Beth's just about to show us our rooms," I offer helpfully. "Actually Mike," comes the reply, "I'd rather get straight on the piano and start practising 'Ruby'. Janis has said she wants me to perform it during the Living Room Concert!"
I kid you not. What a pro you are, Anna!
Beth escorts us personally to our rooms. She doesn't worry about tornado warnings, but she does focus on the air-conditioning – in a nutshell, she tells us "it should get better, later." (Over the next 48 hours, it never does - but no-one really cares!). I do a bit of unpacking and try to cool down … this warm-blooded Englishman is definitely NOT happy in this sauna bath of a building, but a positive mental attitude is definitely needed, and it will prevail …
I re-join the main room preparations. Anna is absorbed in 'Ruby' and must not be disturbed – at least not yet. John the Ubergeek, Janis' film, recording and internet whizz-kid, is readying the video equipment. I introduce myself, and we 'place' each other from previous chat room sessions. There are already three or four guitar cases open at one side of the room – they later turn out to be Craig's.
Back in the lobby, a whirlwind passes through the magic doors – Leslie and Pat have followed the yellow brick road from the East Coast. Leslie and I share our fishing stories (remember my 20lb pike and her 126lb sailfish in the Gallery?) and then she too starts lugging in guitar case after guitar case. I begin an inspection of their contents (what treasures!), and she soon picks up one for herself, chooses the steel-stringed Ovation for me, and drags me out into the lobby. Then while I try to catch up on 30 years of non-guitar-playing, throwing into the pot the names of my "used-to-do" songs from Joni Mitchell, James Taylor, Carlos Santana and others (but with already-stinging tips to my left-hand fingers), she bursts into a series of superb solo folk performances, right by the front desk. John is so impressed that he emerges from his set-up work to film her, while I sit tamely by and just admire (something I would find myself doing alongside many other great Rudicians over the coming two days). Leslie keeps urging me to join in. "Give me time," I smile "… and an easier guitar." And she generously promises to lend me her nylon-stringed, very-low-action Ovation for the rest of the weekend - and that would make all the difference …
I head back towards the main hall, meeting more recent arrivals - Myra and Karen (the crazy Jersey Girls ), and Marcia and Bat - en-route. Gene also comes in, but he and I will not meet up properly until the Saturday night jam. Philip Clark, Janis' sound man (in every sense of the word), has by now arrived and is busy setting up the full system in his usual quiet but utterly professional way. We say hello, and rejoice that he does not have the food poisoning which he and Janis were suffering when we met in London last March!
Meanwhile, Anna is taking a break – the "school piano" is free for me to play with! She warns me it is rather "rough", despite a $60 tuning just completed especially for us. She is damn right. It is reasonably in tune, though there are some awful octave discords, especially with the low Ds … but far worse, it has a terrible "action" and, in a nutshell, is extremely hard to handle. And Anna has barely played piano throughout her 3-week tour of the USA, but is due to rehearse with Janis at any moment, and perform live with her in less than seven hours time ...
I encourage Anna to relax, and I offer to help her with further rehearsals if she'd like that. She says "yes" and goes to unpack. Then I take on the piano myself. VERY HARD WORK. But I slowly get into it, and after a while I am running though a few of my favourites from 'Between The Lines,' and people are saying nice things as they pass by. I have a secret "impossible dream" for the weekend, but I'm not telling anyone about it yet …
Beth has not stopped working for an instant, and I now realise the room has emptied! Was it me and the piano? No … I hear her calling to me: "Come on, Mike, there's pizza for lunch … everyone's down there already!" I tear myself away from the piano, pausing only for another five minutes to try out the fine Casio keyboard that Karen of the Quilt has kindly brought in for Anna, just in case the piano is "rejected" by her or Janis. I plug in my own Yamaha sustain pedal (a keyboard essential for me), and the effect is the reverse of normal … all the notes I play are sustained UNLESS I press on the pedal! Aaargh! I mention this to Philip, and he shrugs his lack of surprise! But he does not carry a suitable signal reverser in his kit!
The lunch is very welcome. A few more Rudies have by now arrived … but I do not meet them all yet. A little later, back in the hall, I find Anna in full "Rudie-Ruby-rehearsal" again. She is still not happy with the piano, and (I hope she won't mind me saying this) is actually quite fearful – just as any of us would have been! She is sure that Janis will reject the instrument out of hand, and her confidence in her own playing is still quite low, even though I tell her repeatedly that it really does sound great, and that "that honky-tonk is EXACTLY right for the bar-room blues sound you are creating." Then it turns out she is concerned about tempo as well. For a while I play artificial drums for her on a nearby table, then I seek out my electronic metronome, set it to the same 62bpm, 12/8 rhythm needed for 'Bright Lights and Promises' (Ruby's elder sister song!), and encourage her to run with it. She keeps that darn metronome running for over half an hour, playing sections of 'Ruby' over and over, better and better, until by 4pm she is finally satisfied and ready for Janis! Bravo, Anna!!
Meanwhile another tornado has blown in, carrying Dar, Randy, Michelle and Rachel. How great for us to meet each other after all this time! Michelle hands over the keyboard she has brought in just for me. But where is Marjan? Dar was supposed to collect her ... but no show! No doubt many Plan Bs are being put in train. Then I spot Dave, and congratulate him on his achievement in making it here in one piece, despite his uncertainties over his health. Everyone he meets is equally delighted he is here with us.
Dar, den-mother supreme, does not pause throughout the afternoon. She is either running a repeated airport shuttle service, or setting up and managing her huge T-shirt stall. In that way, she gets to meet up with everyone quickly, of course, but I am well aware that she is working very hard and still a long way from "partying"! I encourage her to hang loose as soon as she can. She promises she will …
Many more Rudies have by now breezed in, but I will not meet many of them till later. But there is still no Marjan – very late now, and seemingly totally "mislaid". The search continues ...
And then, around 4pm, a very special member of our very special party finally arrives…

---
"Would you like to learn to sing?
Would you like to sing my song?…"
Friday 11 June 2004, early evening …
Janis descends from her van, and ambles up to the front doors as several of us gather outside to greet her. She hands out hugs all round in equal measure, be it for good old friends or brand new acquaintances. And she begins the challenge of trying to remember forty names in as many minutes …
She moves into the main hall with Anna, and it is already obvious where her priorities lie. In parallel with their short rehearsal of 'Ruby', Tina ushers as many Rudies as she can corral together down to the accommodation block, where a very special activity is about to take place. She unveils the magnificently framed, hand-written lyrics of Beth's latest favourite song, 'When I Lay Down', which Janis has produced as her thank-you gift for Beth's inspiration for Janismania and all the hard work that has since followed. On the reverse of the beautiful, marble-like wooden frame is a special panel for signatures: yes, we are all to sign our personal thank-yous!
The rehearsal with Anna must have gone well, for Janis soon re-joins us to admire the beautiful framing and to meet some more of her guests. And I link up at last with Wes from Sheffield (the only other Englishman at Janismania) and several other new friends. Then we all slowly meander back towards the main hall for the opening events. And Marjan has made it at last! We shall hear her sorry story later …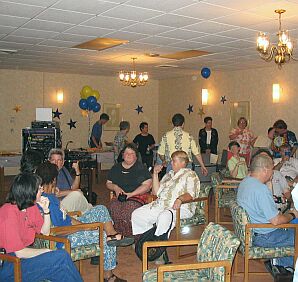 I spot the chance to catch both Beth and Tina together for just a few seconds, and I surreptitiously show them a copy of "A Few Old Friends" (Tina already knew I was producing it, but Beth knew nothing … I'd calculated that would be much easier on her!). I ask for their OK to take a few minutes to present a copy to Janis at lunchtime the following day, and to announce my plans for an auction of another copy to benefit the Pearl Foundation. They give me their full blessing! Game on!!
It's hard for me to focus on enjoying the superb buffet meal ... too many other emotions are running wild, the temperature is still running high, and now I have an extra mission to handle, for Beth has asked me if I am willing to take a photo of everyone at Janismania, and put all the pictures up in a special Gallery. Of course I am honoured by this request, and I say "yes" at once … but I am secretly a little concerned about taking on this big responsibility, in addition to my several other grand plans. The story of my life! Then I take a look across the room at busy-bee Dar, and I know I'm not alone …
Seven o'clock approaches. In the 'concert hall', Kath, Marcia and Dave have each managed to set up their own movie systems in close proximity to John's main camera and Philip's sound system. And I have now "reserved" a central seat for myself too, justifying this solely on the grounds of having been nominated as Beth's official Court Photographer. Back out in the lobby, I encourage Dar and Karen to take their places quickly too, before they are consigned to SRO – but they are both still over-busy with their "merch" activities. So I decide to reserve two places for them, next to me, 3rd row centre. I think they deserve it, after all their hard work, and I hope no-one will object. And of course, no-one does. Then tornado virgin Michelle powers in with Rachel, takes one look at the unoccupied, nay virginal luxury couch waiting for them at front row centre, and claims it for their own without further ado. Well, someone had to, she protests, and she is damn right! She and Rachel leave just enough room for John to sit next to them and shoot his hand-held video of the event! Don't ever let anyone tell you Michelle is backward in coming forward!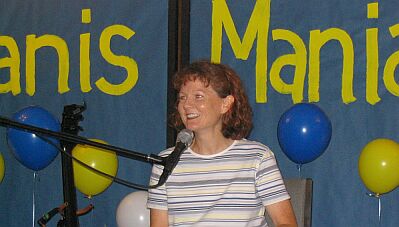 And now the stage is set – with a dramatic backdrop of the Rude Girl logo, writ large on Janis' favourite colour blue. A hush descends as Beth takes the reins and gives her wonderful introductory speech. She apologises for her lack of presentation skills, but we all know she is doing an ultra-confident and utterly inspiring job. And then it is the turn of Janis herself to take the stage, to welcome and to thank us all for being there.
She tells us that, for many good reasons, this will not be a regular, largely pre-planned show, nor even a "typical" Living Room Concert. And she encourages us later to suggest the songs we would like to hear. It is obvious that what is about to happen will be something very intimate …
She opens with 'I Hear You Sing Again'. You could hear the tiniest pin drop, so absorbed is this very special audience. The applause at the end is rapturous. Then someone (Kathleen?) quickly calls for 'Cosmopolitan Girl', Janis' face lights up with that devilish grin, and she dives straight into it – without the familiar solo bass, of course, but with just a few exquisitely taken open guitar chords to complement that bucking bronco of a melody line.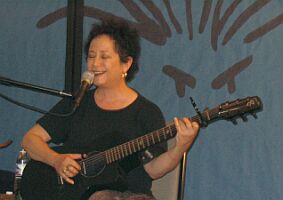 Then comes her introduction to the 'mysteriously named Page Nine': "I still couldn't think of a title for it, even when it was finished … then someone pointed out that I'd written it on page nine of my notebook." Phew! … it's a good job I've done my homework, and a good job Janis hasn't changed that story, for it's already documented in my still-secret "songs companion" book …
She moves on to sing 'Unwinding'. Gloriously. Then Dar finally gets her long-awaited way, as Janis concedes that she will give us 'Play Like A Girl.' But her recollection of the words is not 100%. Oh, all right, then, correctness be damned ... she can't even remember the first line!! But Kathleen can! So SHE leads Janis through almost the entire song - but Janis gets her own back later, after the bridge, for Kathleen had called out verse three too early, instead of verse two! Penance to be paid, Ms B! By the time the song is over, everyone has had a riot, not least Janis herself. And Dar is very, very happy!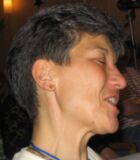 (And what can I say about Dar? Moving forward in time, just for a moment, I recollect that this so-strong, so-self-assured woman who, despite her abhorrence of olives of any colour, has become such a great 'cyber' friend and supporter to me and my work over the past two years, and who sat beside me throughout this wonderful concert, was in tears with almost every single song that Janis sung. And this is the girl who has probably seen more of Janis' shows than all the rest of us Janismaniacs put together. Those tears reveal no weakness, dear Dar. They show only true and beautiful empathy and devotion!)
I request 'Roses', as I always do, but Janis can't recall all the chords and lyrics quickly enough to risk it. I graciously allow her to decline! And she continues the concert with "Every Love". It has all gone very quiet, as everyone sings along in their hearts. Then she closes the first half with a song that EVERYBODY loves: 'Light A Light'. When it is done, we are all more drained than she is.
(I don't recall much of the interval. For me it probably consisted of about three visits to the men's room with the sole purpose of trying to dry down and cool off. How an artist can sustain a professional concert in such conditions just beats me. But Janis would give us some clues to that the following morning …)
Before we restart, I find Anna hovering by the piano. 'Ruby' will be first up! She is nervous, of course, but I can tell she is in control. I give her a hug of encouragement, and take up my place again.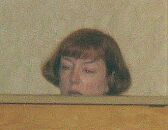 Anna plays magnificently, and Janis sings 'Ruby' as well as she ever has. None of us wants it to end. But when it does, with Anna's absolutely perfect, dramatic final solo piano sequence, the room breaks out in uproar! Janis seems purposefully to stand very small as Anna takes her bow, then they stand proudly together. A superb duet! We MUST see the video footage one day!
And now Janis talks about, and then plays, 'Society's Child'. Of course, it is as fresh and relevant today as it was forty years ago - the greatest single testament to the utter, unwavering integrity that is the only way of life this woman knows to pursue.
She loosens us all up again with her guitar version of 'Silly Habits' – oh, so smooth! And then she dives straight in to 'Boots Like Emmy Lou's'. Everyone is having too much of a ball, so she pulls us up sharp again with 'Love Is Blind', then gets everyone's tears running down with 'Through The Years'.
Finally, to cap it all, with Beth only yards away, she plays our heroine organiser's new favourite: 'When I Lay Down'. Beth will not see those hand-written lyrics for another day and a half, but we all bask in the joy of the secret …
So quickly, it is all over. Janis is already very tired, and she tells us straight that she needs to get off to bed soon and regain her strength for the long Saturday ahead of us. Everybody respects that need, of course, as they will throughout the weekend, and we wish her goodnight and sweet dreams. The party's over, for now …
But wait … THAT party may be over, but it's only about 10pm, and the call is going up: "2nd floor lounge, everybody! And bring your instruments!" The first of the Rudie jam sessions is clearly about to begin …

---
"No-one ever seems to care
Just as long as we are there …
Friends, beside you,
Friends, to guide you,
There, deciding you to stay …"
(from the 1970 hit single 'Friends' by the UK vocal group Arrival
© Enquiry/Carlin Music)
Friday 11 June 2004, late evening …
Despite the call to Rudie Arms, I hover behind for many long minutes … holding on to this extended moment, meeting new friends, chatting to (4-hour-)old ones, and simply absorbing this musicdiscworld's lingering octarine as it crackles on, imbuing the moisture-filled hall and every one of us with its inspirational magic.
Then I finally gather my bits and pieces together, carefully pick up the guitar which Leslie has selflessly lent me, and wander across to the other block and up the stairs to the 2nd floor. Despite my dawdling, I am one of the first to arrive, and following Michelle's earlier unabashed example, I manage to grab a place on one of the soft couches. Very relaxing ... but, it turns out, not an ideal posture for re-establishing a viable guitar playing technique!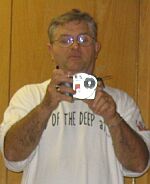 Others start to wander in … Dar, Craig, and Arron, followed by Wes, Terrie, Randy, MikeJ and Charley, Marcia and Bat, Leslie and Pat, Kath and Lucille, Michelle and Rachel - many of them carrying their own instruments. Michelle chooses to sit down next to me, 12-string at the ready … but is it me or the sofa she's really after? Rachel, perched happily on an upright chair right opposite us, looks suitably unconcerned ... so yes, it must have been the sofa.
And we then proceed to play some Rudie music for each other, over the following couple of hours at least.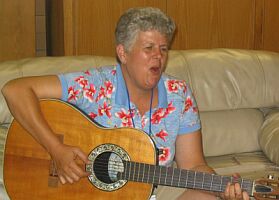 Leslie faultlessly belts out several great folk songs from memory, and from time to time others dare to join in with her. Michelle sings her 'Dead Animal Song' (weird, Meeshee!!), and has spotted that there are birthdays in the air, and so she initiates a quick group rendition of "Happy Birthday" for Lucille and me. Meanwhile, I have been thumbing the pages of my treasured JI songbooks, and Michelle and I move on to sing and play half-decent versions of 'Light A Light' and 'Hymn' together.

Craig fills in all the gaps between these lines of 'different leaders', playing large sections of many different songs … even though, like Janis, he sometimes needs to pause for a moment to recollect just what comes next!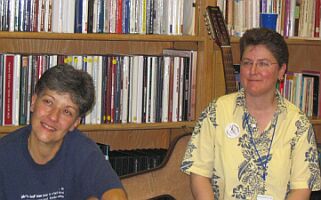 Dar enthusiastically joins in with him on many of these numbers, on her own very special American folkloric instruments, the Minnesotan Tonetto and the Peggy's Bag o'Quarters. I feel from time to time that my little Appalachian Mountain Metronome would be a useful addition to her grand ensemble, but suggesting that might spoil the mood and generate the threat of yet another slap on the head, so I wisely hold back ...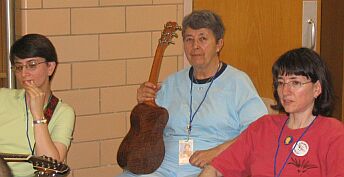 Rachel, Bat, Marcia and others are sporting their mandolins and other instruments and chipping in, on and off, but have not (yet) taken a lead. Maybe they will do so later, after some of us have finally retired to our beds ...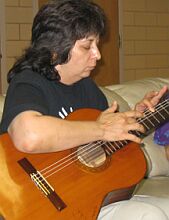 But suddenly the focus shifts to Kath, and we are transported to a different world. She picks up her guitar and begins to do things with it that none of us has every seen or heard before. It is an amazing combination of "left hand from behind" (as in slide guitar work), PLUS picking not only with the right hand but also with some fingers of the left hand while holding down the strings with other left-hand fingers, PLUS creating notes with left hand percussive striking / pull-off, PLUS beating a compelling, complex, intermittent rhythm on multiple parts of the sound box with her right hand! Absolutely stunning! We are all spellbound at her apparently unstructured initial 'jamming' ... but then she moves on to what is clearly a 'proper' piece of her own invention ... and THEN, incredibly, to the execution of several sections of Janis' own remarkable new instrumental, 'Marching on Glasgow'! The smoke signals are already drifting across the campus, and will no doubt soon be picked up by the Big Chief herself …

| | |
| --- | --- |
| | |
Who could follow that? Certainly not me. After a little while longer, I recognise that I am fading fast, and that it is once again time to get some sleep and be fit for what I hope would be a very long and exciting middle Saturday. I leave most of my new friends happily pushing their non-sleep envelope still further …
Click here to read the next part of the story ...
© 2004