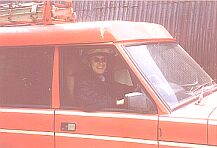 My flying club is Skyline School of Flying, based at Little Gransden in Cambridgeshire. But I've also often flown out of Bourn, Duxford and Henlow. I hold a Ground Radio Operator's certificate, and I'm a trained firefighter and first-aider, so I often help out with Operations at Little Gransden, especially when the club owners are away.

I fly Piper Cherokees, mostly, but I have also flown Piper Warriors and Archers (see photos above and below), and Cessnas (150, 150 Aerobat, 152, and 172). But best of all, so far, has been an amazing aerobatic flight in a Slingsby Firefly T67M, which I won in a raffle at our airfield's annual airshow. What an experience! Read all about it here.

I equally enjoy flying solo or with other pilots, and I love taking passengers, especially those who've never been up in a light aircraft before. In one busy four-hour session at Henlow in 2001, I took up ten people (including five virgins!) in four separate flights. I needed a beer after that, as you can see from this photo at the end of the last flight!